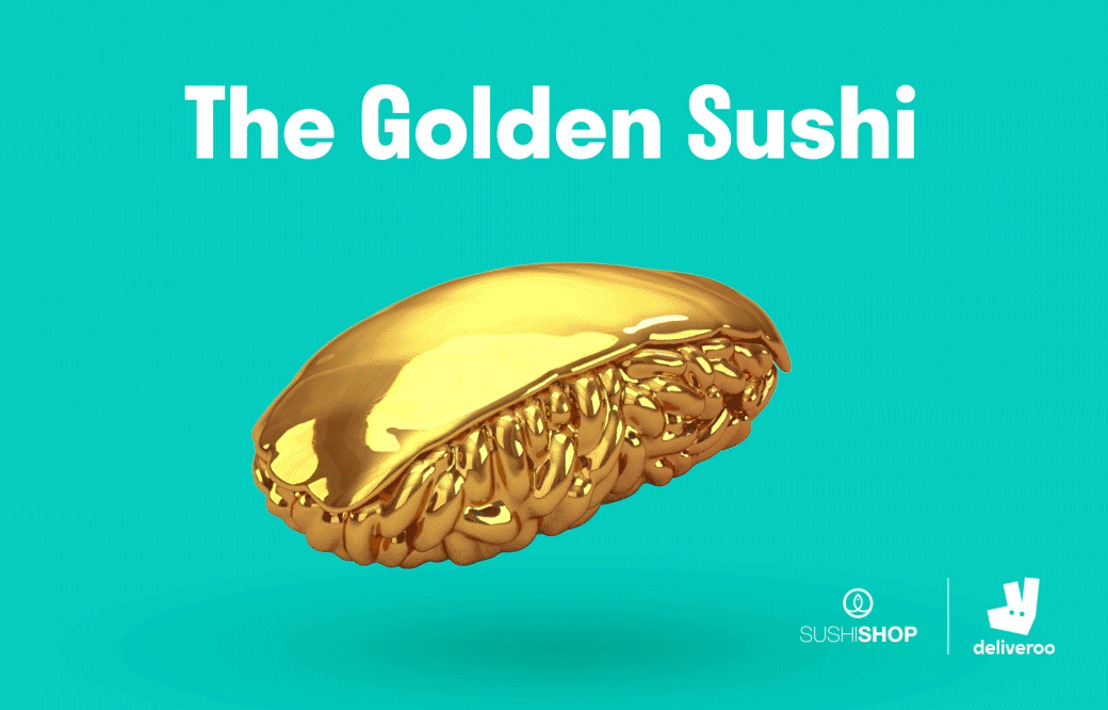 The Golden Sushi: de ultieme wedstrijd voor sushi lovers!
Maandag 17 september 2018 — Vergelijkbaar met de Golden Tickets van Willy Wonka, lanceren Deliveroo en Sushi Shop de Golden Sushi wedstrijd. Tussen 17 en 23 september worden drie gouden 3D-sushi's verstopt tussen de normale rolls van Sushi Shop Brussel, Antwerpen en Waterloo. Naast een leven vol sushigeluk wint de vinder een geldprijs van €500!
Deliveroo en Sushi Shop kwamen op de proppen met de leukste wedstrijd ooit voor sushi lovers: de Golden Sushi. Tussen 17 en 23 september verstoppen de chefs van Sushi Shop Brussel, Antwerpen en Waterloo elk één goudkleurige 3D-geprinte sushi tussen je favoriete rolls. De gelukkige vinders winnen maar liefst €500 Deliveroo credits! De Golden Sushi is met andere woorden het perfecte excuus om elke dag van de week sushi te bestellen!
May the sushigods bless you!
Over Deliveroo
Deliveroo is een bekroonde bezorgservice die in 2013 werd opgericht door William Shu en Greg Orlowski. Deliveroo werkt met meer dan 35.000 van de meest geliefde restaurants, evenals meer dan 30.000 rijders om de beste food delivery-ervaring ter wereld te bieden. Deliveroo's hoofdkantoor bevindt zich in Londen. Het bedrijf werkt met meer dan 1.000 werknemers in kantoren over de hele wereld.
Deliveroo is actief in meer dan 200 steden in 12 landen, waaronder Australië, België, Frankrijk, Duitsland, Hongkong, Italië, Ierland, Nederland, Singapore, Spanje, de Verenigde Arabische Emiraten en het Verenigd Koninkrijk. In België is Deliveroo marktleider en actief in 12 steden. De bezorgservice werkt in ons land met meer dan 1.400 restaurants. ​
Meer informatie vind je op: www.deliveroo.be, Facebook, Instagram.​
Maureen Richard
Walkie Talkie NV
Maureen Richard
Walkie Talkie NV
Deborah Dekrem
Walkie Talkie NV
Deborah Dekrem
Walkie Talkie NV