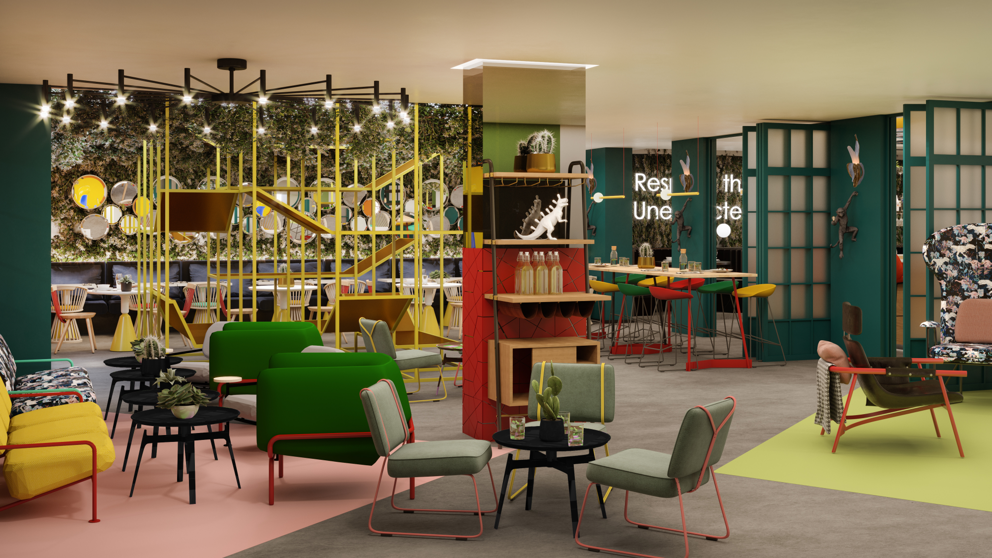 DISCOVER AND EXPERIENCE THE LATEST HOTSPOT IN BRUSSELS
In November, a brand-new hotel experience will open its doors in the hottest neighbourhood of our capital city. Are you ready for Qbic? Business travellers, holidaymakers, and locals alike will love this new place to be – a unique setting for dining, sports, work, relaxation, and a good night's sleep. Qbic is genuinely unique in Brussels!
Qbic, located right between the bubbly nightlife of Flagey and the luxury of Avenue Louise, will offer a range of experiences guaranteed to keep boredom at bay!
Step inside and check-in straightaway using one of the iPads or let the Qbic staff welcome you in this quirky designer paradise. Take a seat on one of the swings and don't forget to take a selfie in the large round mirror above your head. Click, post, share & like! How's that for a new hotel experience?
Follow your nose – quite literally – and discover an oasis of tasty options at Motley, a restaurant, bar, relaxation, and co-working area all seamlessly blended into one. At Qbic we like to bring people together. Motley is a place that feels "just like home", a playful yet relaxing sitting room where you can hang out, work, drink coffee, and have fun. In fine weather, you can also sip on a delicious cocktail in the garden, a green oasis in the heart of the city.
After an adventurous day in the city or a busy workday, take the lift or the stairs to one of the hotel's 148 rooms. Qbic is a comfortable haven for all. From young travellers to families and business travellers, our Mini, Cosy, Fun and Fancy Rooms have something for every taste. You'll be greeted by the amazing design that characterises the entire hotel.
On the way to your room, take a small break in one of the kitchenettes on every floor. Do you love freshly ground coffee, a wide selection of teas, and various types of milk, such as soy, to pimp your drink? Look no further!
Maybe you're done with all that caffeine for the day? Then head to your room for a glass of cold filtered water! Take a refreshing - not to mention water-saving - shower and pamper yourself with our deliciously scented organic toiletries. Lie down on your bed and relax with a good book from our 'lost & found' bookcase. Or why not watch an on-demand movie via our Smart TV, powered by superfast Wi-Fi? No need to get up, because you can operate the entire room from your Qbi. An astonishing, surprising, mind-blowing experience!
Qbi
All the functionally furnished rooms will have the so-called Qbi. This elegant, smart cocoon allows you to control the entire room from your bed, which has a luxurious bio mattress and is topped with countless cushions. But there's more! Every Qbi in Brussels is pimped! The furniture fronts are animated with, let's call it, "the adventures of a certain cartoon character in Brussels".
Share drinks & dinner!
Wake up to the smell of freshly ground coffee from Parlour, a local coffee roasting plant, and start your day with an energising breakfast at Motley. The restaurant serves up dishes made with local ingredients, such as chocolate from Frédéric Blondeel and meat from Dierendonck, beers from Brussels, and locally grown vegetables. Feel like a savoury snack? Then why not order a sandwich served on an authentic wooden board or go for one of our sharing plates for a nice meal with friends or colleagues?
Our Place, Your Space.
Meetings, presentations, networking events, interviews, or workshops can be held in one of the 3-in-1 meeting rooms. These inspiring, stimulating spaces are nothing like the usual boring meeting rooms you find in other hotels. They provide the ideal setting to make great things happen.
Need to relax? Move the meeting tables around to play a game of chess, draughts or Monopoly, or watch a film in the special film room decorated with super comfortable velvet sofas. Or, why not… clear your head in the eco-friendly gym with cordless equipment.