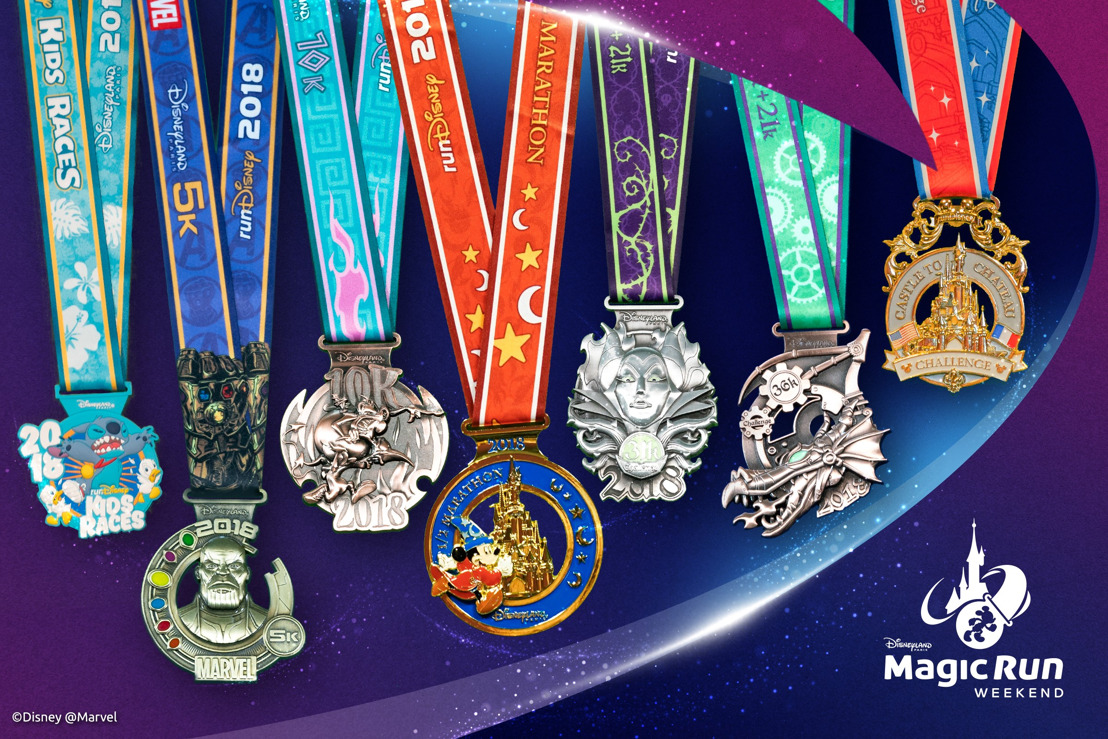 De medailles voor het Disneyland® Paris Magic Run Weekend 2018 zijn onthuld
Vrijdag 29 juni 2018 — De medailles van het vrolijkste hardloopevenement van Europa zijn een motiverende kracht voor de 24.000 hardlopers die (naar verwachting) deelnemen aan het Disneyland® Paris Magic Run Weekend van 20 t/m 23 september. Het ontwerp bevat Disney Figuren en Marvel schurken, in lijn met de thema's van de derde editie van dit evenement.

ECHTE COLLECTOR'S ITEMS
Het Disneyland® Paris Magic Run Weekend biedt een buitengewone sfeer, geweldige kostuums, de mogelijkheid om Disney Figuren te ontmoeten ... en unieke medailles. Ze worden vooral begeerd door deelnemers, van wie sommigen ernaar streven ze allemaal te verzamelen. Eindelijk is het tijd om deze echte collector items voor de fans te onthullen.
De beroemde alien Stitch verschijnt op de medailles van de runDisney Kids Races. Thanos, de meest formidabele schurk in het Marvel universum, werpt een schaduw over de Disneyland® Paris 5K en verschijnt op deze medailles. Pijn en Paniek, de handlangers van Hades uit de onderwereld (in de animatiefilm Hercules), zijn te zien op de medaille van de Disneyland® Paris 10K. Finishers van de Disneyland® Paris - Val d'Europe Halve Marathon ontvangen een medaille waarop Mickey Mouse en het beroemde Kasteel van Doornroosje te zien zijn. Het Kasteel van Doornroosje staat ook op de medailles van de Castle to Chateau Challenge, samen met de Franse en Amerikaanse vlaggen. Deze worden uitgereikt aan de hardlopers die in één kalenderjaar zowel de Disneyland® Paris - Val d'Europe Halve Marathon als de Walt Disney World Marathon presented by Cigna (of een runDisney Halve Marathon in Walt Disney World Resort in Florida) hebben voltooid. En tot slot, voor de lopers die de 31k of 36k challenges voltooien, zijn er twee medailles met Maleficent. Op de ene is haar dreigende gezicht te zien en op de andere zie je haar transformatie tot een draak. Degenen met een scherp oog zullen ook opmerken dat de draak hetzelfde 'steampunk'-ontwerp gebruikt dat te zien is in de Disney Stars on Parade.

HET PROGRAMMA
Donderdag 20 september
Verzameling rugnummers, tot zaterdag 22 september
runDisney Health & Wellness Expo, 15u tot 20u
Vrijdag 21 september
Disneyland® Paris 5K, 20u
runDisney Health & Wellness Expo, 10u tot 20u
Zaterdag 22 september
Disneyland® Paris 10 km, 7u
runDisney Kids Races, 10u
runDisney Health & Wellness Expo, 9u tot 19u
Zondag 23 september
Disneyland® Paris Val d'Europe Half Marathon, 7u
Contacteer ons
Justine Seynhaeve
Walkie Talkie NV
Justine Seynhaeve
Walkie Talkie NV