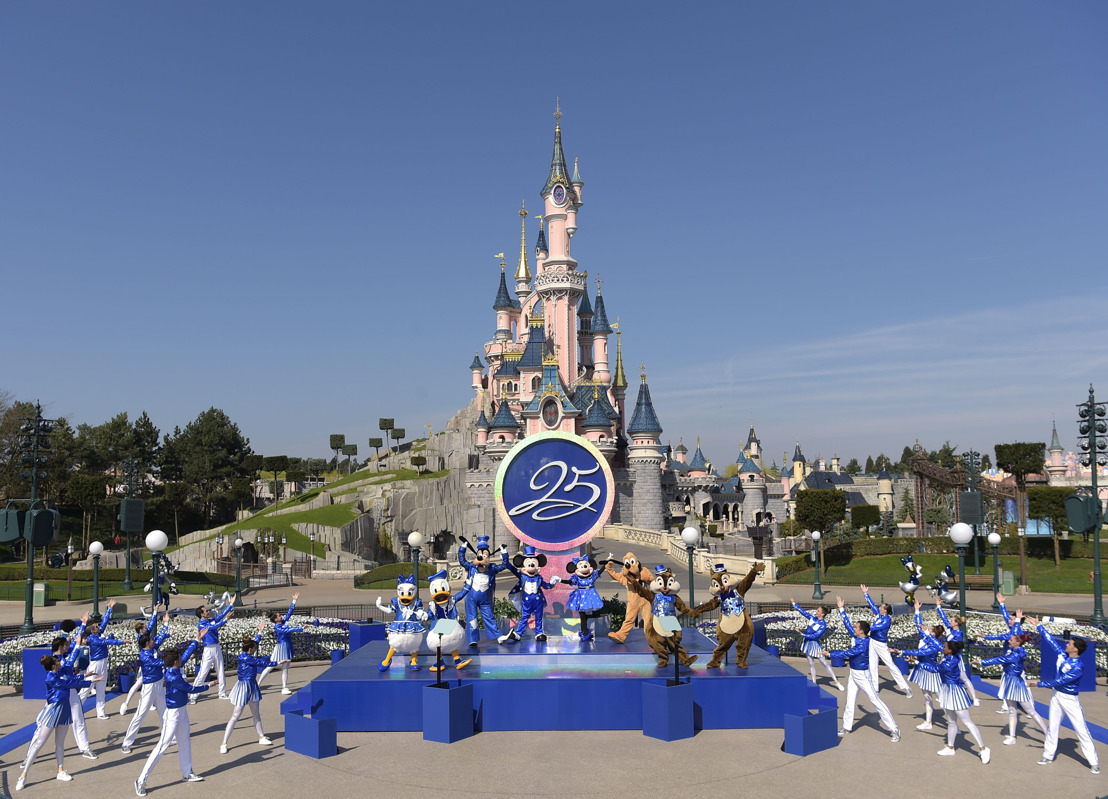 25-26 MAART 2017 - OFFICIËLE START VAN DE 25ste VERJAARDAG VAN DISNEYLAND® PARIS
EEN SCHITTEREND PROGRAMMA!
Woensdag 29 maart 2017 —
Disneyland® Paris wordt 25 dit jaar!
Het belooft een spannend jaar vol verrassingen en nieuwigheden te worden. Wat staat er allemaal te gebeuren? Neem een kijkje naar het schitterende programma, met onder andere de opening van de nieuwe Star Wars attractieStar Tours: The Adventures Continue, de gloednieuwe parade Disney Stars on Parade en de spectaculaire avondshow Disney Illuminations.

Dit weekend was de magische verjaardag en meteen ook de officiële start van het feestelijke jaar. Tal van internationale en Belgische beroemdheden waren aanwezig om met Disneyland® Paris het verjaardagsjaar feestelijk in te zetten.

Karen Damen, Astrid Coppens, Annelien Coorevits, James Cooke, Loïc Nottet, Alice on the Roof, Olympisch medaillewinnaar Nafissatou Thiam en hun gezin hadden de opportuniteit om samen met Mickey en Minnie Mouse de 25ste Verjaardag te vieren! R&b-ster John Legend (*) luidde met een prachtig verrassingsoptreden de gloednieuwe Disney Illuminatons in. Ook Desperate Housewives actrice Teri 'Susan' Hatcher (*) verraste de parkbezoekers met een acte de présence.
OVER DISNEYLAND® PARIS
Disneyland® Paris is de nummer één toeristische bestemming van Europa met meer dan 320 miljoen bezoeken sinds de opening in 1992 (13,4 miljoen bezoeken in 2016). Het resort bestaat uit twee spectaculaire themaparken (Disneyland Park en Walt Disney Studios Park) en zeven gethematiseerde Disney hotels met 5.800 kamers (meer dan 2.700 kamers zijn beschikbaar in geselecteerde partner hotels). Daarnaast zijn er ook twee full-service congrescentra en een world-class 27-holes golfbaan aanwezig. De bestemming omvat verder Disney Village - één van de grootste entertainment complexen in de regio Ile-de-France. Disney Village ligt op meer dan 30.000 vierkante meter en biedt thema-restaurants, winkels en een bioscoop. Disneyland Paris heeft 59 attracties, 63 winkels en 55 restaurants.

* Meer over John Legend
Grammy®- and Academy Award®-winning R&B superstar singer, songwriter, and pianist John Legend was a child prodigy – playing piano at the age of five. He has produced five studio albums includingLove in the Future, which included the Number 1 Single "All of Me" and his latest hit record Darkness and Light. He has won 10 Grammy® Awards and an Academy® Award for Best Original Song for co-writing the song "Glory" from the film Selma.
Legend surprised the press, media and the guests at Disneyland® Paris with the performance of four songs: "All of Me," "Ordinary People", "Love Me Now" and his new rendition of the hit song "Beauty and The Beast" from the blockbuster live action film. The performance took place on a specially-designed stage at The Hub with Sleeping Beauty Castle as the backdrop. The setting was classy and classic – circular stage, piano and spotlight. Following John's performance, the new nighttime spectacular Disney Illuminations made its debut.
This was John's first visit to Disneyland® Paris. Following his performance, he took time to take a photo with Mickey Mouse and Disneyland President, Catherine Powell. John also expressed his admiration of Disneyland® Paris and being a part of the 25th Anniversary celebration by speaking with members of the European Press.
* Meer over Teri Hatcher
Teri Hatcher is an America movie and television star who is best known for hit TV shows like "Desperate Housewives" and "Lois and Clark: The New Adventures of Superman." She has also co-starred in hit films like the James Bond epic "Tomorrow Never Dies" and the comedy "Soapdish."Currently, Hatcher has a recurring role on the Fox TV series "Supergirl." A multi-talented performer, Hatcher also provides the voice of Beatrice Le Beak in the hit Disney Channel series "Jake and the Neverland Pirates," and has provided the voice of Dottie for the beloved Disney animated films "Planes" and "Planes: Fire and Rescue."
Teri Hatcher was on hand to celebrate the 25th Anniversary of the resort – this time with her dad – on his first trip to Paris. After a few days of enjoying Paris with her father, Owen, Teri arrived at Disneyland® Paris, ready to celebrate. She caught the debut of the new Disney Stars on Parade, talked with some of the media guests in attendance, and even posed for a photo with Goofy. She also stayed for the debut of the new Disney Illuminations night-time show.